"I have had the privilege of working closely with GDI on a 400K square foot automated warehouse and executive office build out.  I am an owner's representative for Coca-Cola Consolidated, Inc. and was the site manager for this project.  Our building was delivered in under 10 months from mobilization to as-built documents.
We had excellent communications from the pre-con all the way through the entire build including a seamless turnover.  I was impressed with the cooperative relationship they had with their subcontractors and their creative approach to work around potential delays and weather situations.
I would not hesitate recommending GDI as a valued partner and look forward to working with them again in the future."
Robert E. Costa
President at LIS Construction Services, Inc.
Construction Services
We believe that the best buildings – ones that truly suit the needs of the people who use them – are built with more than steel, glass, and concrete. They're also constructed with generous amounts of client input, trust, open-mindedness, and reassurance. That's what makes our approach to your project so unique.
First, we listen. Nothing moves forward until we completely understand your needs, desires, and expectations. Only then do we begin to sketch floor plans, elevations, and layouts for your project. And once we've developed initial designs, we'll seek out your feedback. After all, we can't build exactly what you need without your input.
Next, we provide you with a firm price estimate and construction schedule. Upon your approval, we begin the in-depth design work – seeking your feedback and input at various points along the way. When our design mirrors your goals, construction begins.
Throughout the physical construction process, we meet regularly with subcontractors and suppliers. We encourage your participation in these meetings as well; it's just one more way to ensure your building is the building you've imagined. When you choose GDI, you choose a true collaborative partner who will be with you every step of the project.
"A physical structure is only the final deliverable."
By the time it's built, we've already provided our client with a number of valuable things. Among them are trust, integrity, and a sense of partnership. That's because we're not simply people who create buildings. We're GDI Construction – and we're building a better experience.
Development Services
GDI Development is committed to delivering successful projects in every sense of the word. From inception to completion, the core of GDI's approach to each and every development project is integrity and collaboration. We believe that success is achieved by developing high-quality projects focused on long-term viability and profitability for all involved parties.
Our experience and resources span the full spectrum of commercial real estate development. We are specialists in structuring cost advantaged solutions for our tenants, clients and investor partners focusing on:
Build-to-Suit Facilities for Lease or Own
Design/Build of Speculative Distribution Facilities
Business Park Land Development
Fee Development and Project Management
The GDI Development team is experienced, attentive, entrepreneurial, and not just focused on making a deal, we are focused on making a relationship that stands the test of time with each of our partners, tenants, and clients.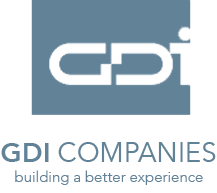 © 2023 GDI Construction. All Rights Reserved.