GDI constructed this 127,000 SF state of the art manufacturing facility for Brevini Wind USA in Muncie, IN. This specialized facility includes crane bays, several equipment pits, 18″ thick concrete floors in areas and 15,000 SF of office. Brevine will employ 450 people and feature the production of main-drive gear boxes for the US wind turbine market. Upon completion in the Spring 2010, production estimates are 1000 gear boxes per year. 
"The qualification based process utilized by Brevini Wind to select our design-build team was very demanding and required almost six months from start to finish. The construction of our facility includes heavy concrete, steel and electrical components which require years of expertise to ensure quality delivery. While all the firms shortlisted demonstrated this expertise, GDI Construction became the obvious choice.  Their commitment to customer satisfaction, the highest quality construction and demonstrated value through the design-build process will give the Brevini Company a competitive advantage in the U.S. market as we move toward our 2010 start of production."
Dr. Jacopo Tozzi, CEO, Brevini Wind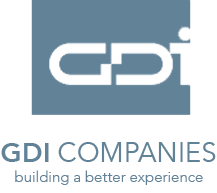 © 2023 GDI Construction. All Rights Reserved.