Cooper Tire Distribution Center
GDI constructed this 804,000 SF distribution center for Cooper Tire in Franklin, IN as part of an initiative to increase efficiencies and realize the energy saving associated with operating a new, state of the art warehouse. Early in the process, GDI helped Cooper Tire analyze various sites and guided them through the LEED process by providing cost-benefit analysis on their building specifications. GDI used their creativity and past experience with bulk warehouse construction to exceed the original goals for LEED by securing a Gold rating only two months after its completion, with very little additional cost to the client. This impressive distribution center is now the largest Gold rated LEED project of its kind in the United States.
Some of the "green" features in this facility include a low impact site design, use of local materials, water conservation, rainwater collection and reduction of energy consumption. A white roof and reflective exterior site concrete reduced the heat island effect. Landscape irrigation does not use potable water, reducing the impact on the local water utility.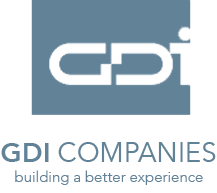 © 2023 GDI Construction. All Rights Reserved.