GDI Construction Corp built out the tenant finish for a global Fortune 100 technology company and its logistics provider, GXO Logistics, who are occupying a 1,079,000 SF facility also built by GDI Construction. The value-added fulfillment center will achieve LEED Gold ID+C (Interior Design + Construction) Certification and includes 40,000 SF of office space, a 200,000 SF robot field used to pick  and sort product, and a 150,000 SF area used for laser etching and shrink wrap/packaging. The laser etching lines include ISO-7/Class 10,000 clean room zones and the building received a power upgrade from 3,000 amps to 10,000 amps with 100% emergency generator backup.
The facility is fully conditioned, with 57 rooftop units installed. LED lighting is included, with footcandle levels ranging from 30 fc in the robot field to 110 fc in quality assurance stations. A server room will track the robots via GPS and gather all robot data for its warehouse management system.
The building, which is designated as a Free Trade Zone, will employ up to 800 people and will exceed ADA requirements.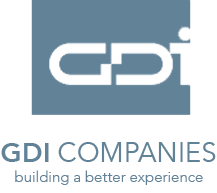 © 2023 GDI Construction. All Rights Reserved.